Where local pros guide you - every step of the way
---
DeckTown: Decks, Fencing and More
---
DeckTown is the part of TimberTown where you'll find everything and anything related to decks and fencing. We stock both wood and composite materials in several colours and brands. We can also special-order almost any other product you may have in mind, and supply FREE take-home samples of all composite decking.  In each of our stores, you'll also find beautifully built deck and fence displays to inspire your backyard creativity, including accessories such as lighting, railings, gates, privacy screens and pergolas.
Planning out an entire design and budget for any yard project can be daunting. But at TimberTown, you'll get a Pro who will help you succeed from start to finish -  not only in choosing the style and supplies, but by guiding you, or your chosen contractor (yes, we know many excellent independent contractors if you'd like a referral) all the way through the project.
 Here are the typical steps:
Step 1
Meet Your Pro
Whether online or in person, you'll have a seasoned TimberTown Pro who will guide you throughout your project. You'll also be able to easily access them by phone, email or at the store most convenient for you.
Step 2
Consult
Whether in-store or online, your Pro will help you select deck styles, fencing and/or gate hardware, clarifying sizing, functionality, and delivery requirements -  and even help you design the perfect deck for your home.  If you wish to have a contractor do your construction, your Pro will recommend local people whose work we know well.
Step 3
Site Prep
We'll assemble and prepare all the parts of your order including assembly and installation instructions, keeping you (or your contractor) apprised when the order is ready.
Step 4
Pickup or Delivery
Once ready, you or your contractor can pick it up, or we'll arrange a time to deliver it to your yard. We can deliver to anywhere within the province of Alberta.
Step 5
Construction
Now you're ready to build!  While your Pro will give you installation instructions based on your design and chosen materials, feel free to call them for guidance at any stage of the process.  Your TimberTown Pro can also help you find accessories, such as lighting or privacy screens, and assist with maintenance products and warranty.
Step 6
Enjoy!
Congratulations on your newly-styled yard!  If you'd like to give us a review, we'd sure appreciate it.
Use to plan and envision what you might need for your project.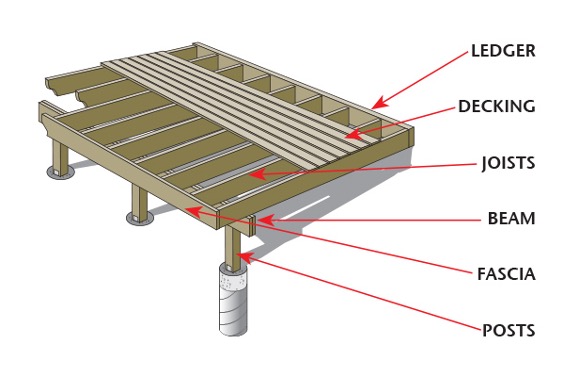 The following resources will help you plan the materials you'll need for your deck or fence project.  Our Pros will then verify you've chosen all the correct supplies before you purchase.
Remember, before you start your project, always click before you dig.
---
Ask a Question or Get a Quote